Labile Dissolved Organic Matter (DOM) Workshop
The Labile DOM Workshop will be held on September 19-22, 2022 at the University of Georgia's Complex Carbohydrate Research Center (CCRC), in Athens, Georgia.
Elizabeth Kujawinski, Lihini Aluwihare, and Art Edison are organizing this workshop around chemical measurements (Mass Spectrometry and Nuclear Magnetic Spectroscopy) of dissolved metabolites relevant to marine microbes. Our tentative schedule includes the following broad topics: analytical methods, new and emerging applications, and a possible intercomparison exercise. We hope to end the workshop with a white paper describing the steps needed to incorporate these measurements into international efforts like BioGeoSCAPES.
Registration is now open. The deadline for registration is July 31, 2022.
Names of C-CoMP Faculty are emboldened.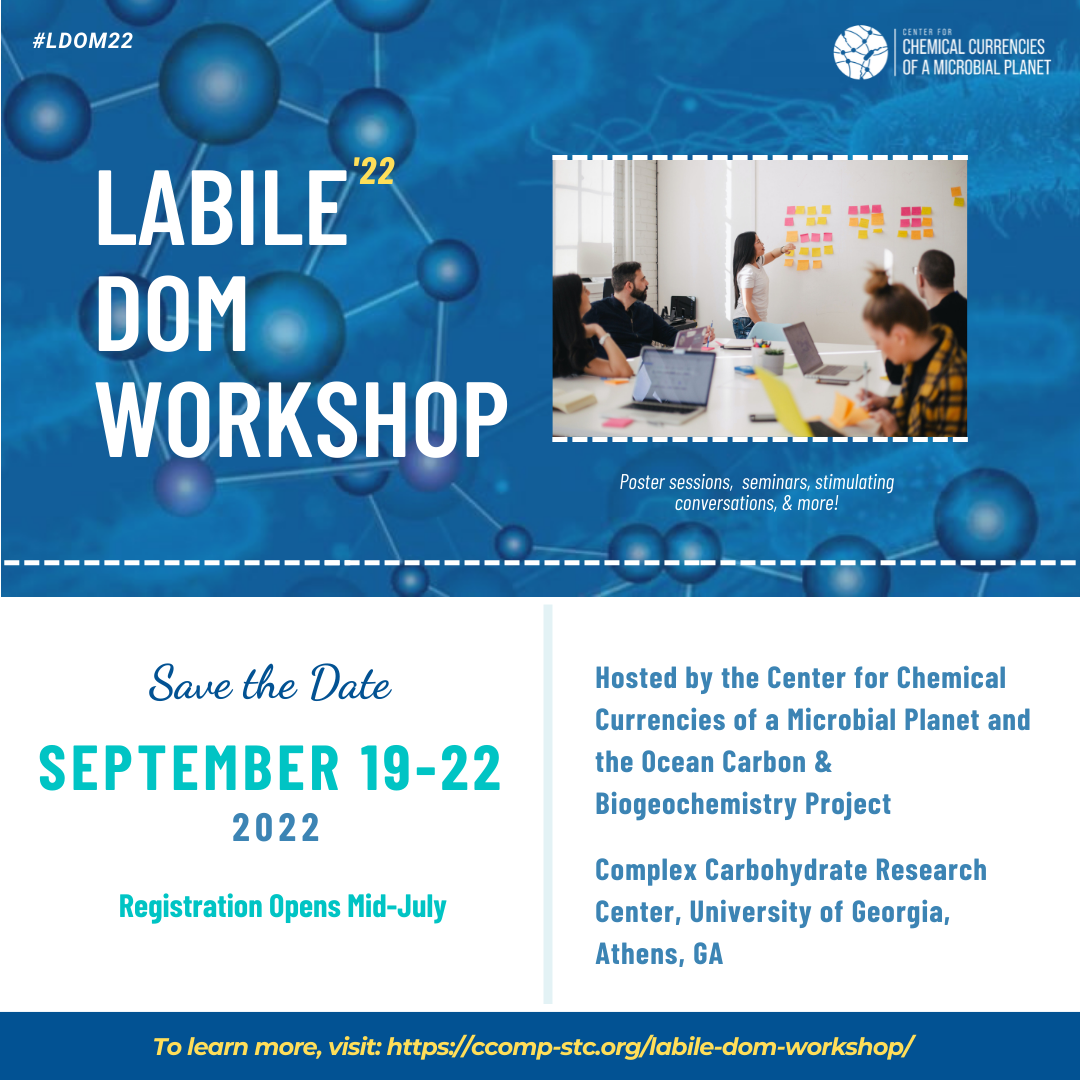 Travel and Lodging Information
Air Travel
The nearest airport to Athens, Georgia is the Hartsfield-Jackson Atlanta International Airport (ATL) in Atlanta, Georgia, located approximately 85 miles away. 
This airport offers shuttle services to/from the hotel, rental vehicles, buses, and more. If you choose to use a shuttle or a bus to get from the airport, please check the bus/shuttle schedule and coordinate it with your flight reservations. Local bus service is provided by Groome Transportation and reservation is required (https://groometransportation.com/). C-CoMP will not reimburse rental car expenses for this workshop as there are mass transit options to/from the airport.
Ground Transportation
C-CoMP will cover the majority of transportation between sessions and gatherings for registered participants to reduce congestion in campus parking lots.