Labile Dissolved Organic Matter (DOM) Workshop
The Labile DOM Workshop will be held on September 19-22, 2022 at the University of Georgia's Complex Carbohydrate Research Center (CCRC), in Athens, Georgia.
This workshop focuses on chemical measurements (Mass Spectrometry and Nuclear Magnetic Spectroscopy) of dissolved metabolites relevant to marine microbes. The workshop agenda is posted below.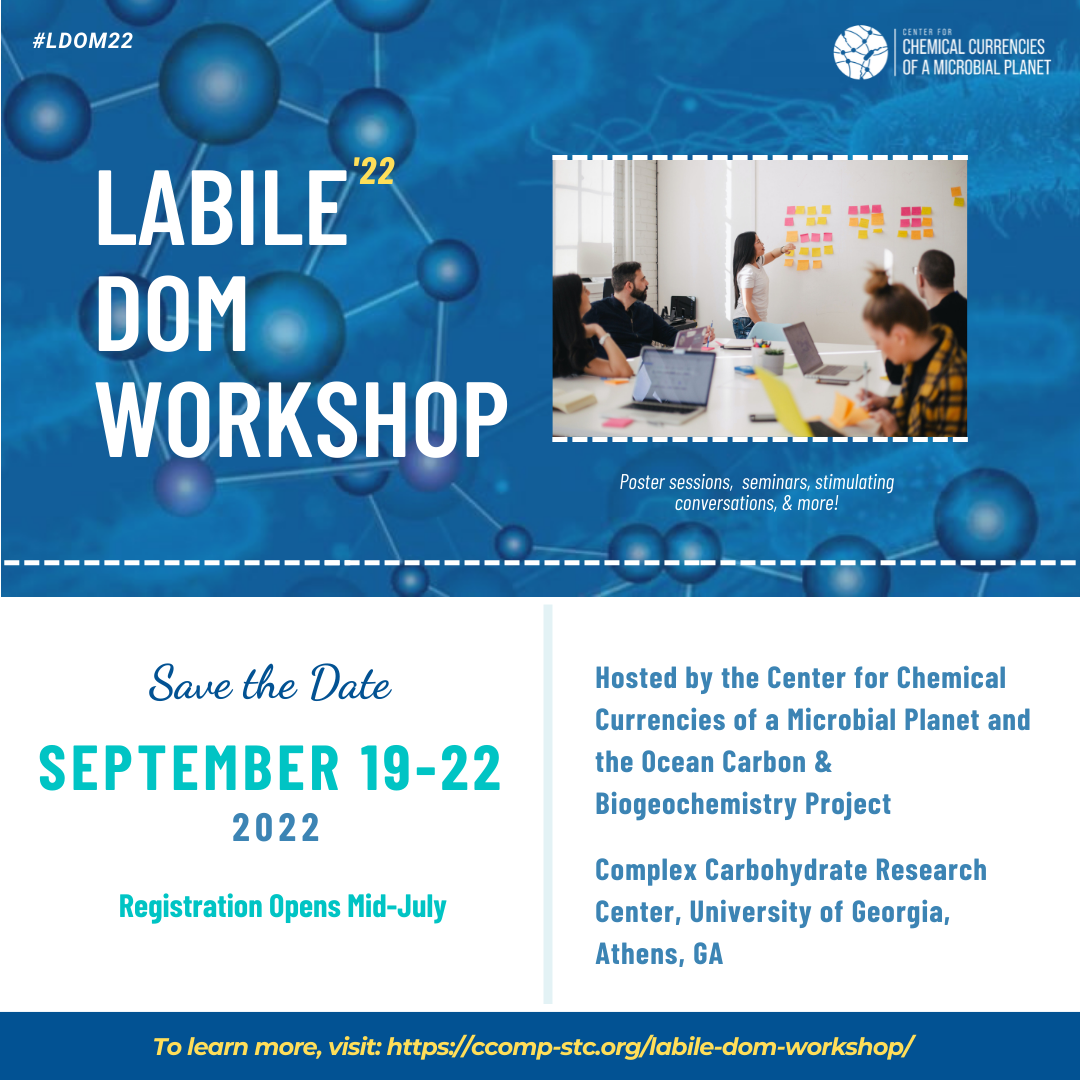 Travel and Lodging Information
Air Travel
The nearest airport to Athens, Georgia is the Hartsfield-Jackson Atlanta International Airport (ATL) in Atlanta, Georgia, located approximately 85 miles away. 
This airport offers shuttle services to/from the hotel, rental vehicles, buses, and more. If you chose to use a shuttle or a bus to get from the airport, please check the bus/shuttle schedule when arranging flight reservations. Local bus service is provided by Groome Transportation and reservations are required (https://groometransportation.com/). Groome Transportation can be used for travel between the Hotel Indigo and the Atlanta airport (airport code ATL); they will not go directly to the meeting site. If you are arriving on an international flight you will need to take the blue shuttle bus from the international terminal to a domestic terminal.
The MARTA train system operates in the Atlanta metro area and has a station at the Hartsfield-Jackson Atlanta International Airport. 
On Thursday, there will be a bus that leaves the meeting site at 1 pm and will arrive at the Atlanta airport around 3:30 pm. If you want to take advantage of this shuttle, please contact Helen Harding (hharding@whoi.edu) to reserve a spot. There is no added cost for this service.
C-CoMP will not reimburse rental car expenses for this workshop as there are mass transit options to/from the airport.
Local ground transportation
The meeting hotel is three miles from the meeting site. On Tuesday, Wednesday, and Thursday there will be a shuttle between the hotel and the meeting site in the morning. It will make two trips with the first at 7:15 am and a second trip around 7:45 am. At the end of the day, the shuttle will transport people from the meeting site back to the hotel. We encourage all attendees to use the shuttle in order to reduce congestion in campus parking lots.
The Athens-Clarke County Bus Service can be used to navigate around Athens, GA. 
Things to do & Places to see
| | | |
| --- | --- | --- |
| Place | Address | More Information |
| State Botanical Garden of Georgia | 2450 S. Milledge Ave, Athens, GA 40605 | Hours: Sun-Mon (8a-7p), Free admission |
| Music Walk of Fame | Downtown Athens, self-guided tour | |
| Creature Comforts Brewing Company Taproom | 271 W. Hancock Ave., Athens, GA 30601 | Hours: Mon-Thu (5p-10p), Fri (3p-10p), Sat (12p-10p), Sun (1p-6p) |
| Georgia Museum of Art | 90 Carlton St., Athens GA 30602 | Hours: Tue/Wed (10a-5p), Thu (10a-9p), Fri/Sat (10a-5p), Sun (1p-5p), Free admission |
| Rook & Pawn | 294 W Washington St STE 300, Athens GA 30601 | Hours: Tue-Thu (11a-10p), Fri/Sat (11a-12a), Sun/Mon (11a-8p) |
| Avid Bookshop | 1662 S Lumpkin St., Athens, GA 30606 | Hours: Wed-Sat (11a-6p) |